Weddings at Bryngarw House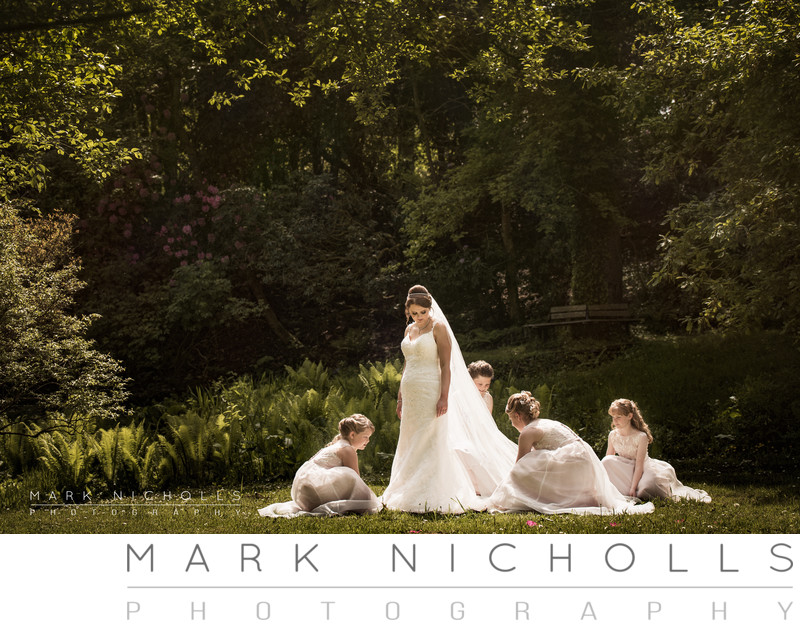 Weddings at Bryngarw House
One of my favourites from this wonderful wedding at Brynmawr House in South Wales. I really enjoy photographing at this venue, and hope to be back very soon. We were blessed with gorgeous sunshine from the moment we arrived until the moment we left. The couple had just had some portraits done in the Japanese Garden. This garden is open to the public, and I would urge anyone to take a visit as it's spectacular. We had half an hour to kill before the wedding breakfast and the flower girls just so happened to be in the vicinity and it was decided then that I should make a pretty cool portrait of them all.
So, just to set the story straight - no I did not just happen to catch this organic moment as it happened.. per se. The picture is real, they were fussing with Kirsty's dress, but I set this stage for the moment to happen. Whilst i describe myself as a documentary photographer, I'm also a wedding photographer and to be completely hands-off quite frankly is handing over my fate to someone else. I'm at the wedding to create pictures. Whilst i set the scene however, it is my absolute primary goal for the moments to then be there own with minimal interference.
Literally within 5 seconds of taking this picture I became very excited and I said to myself "that's for the website". I set this scene up for Kirsty and her flower girls and everything just fell into place. The composition and light here were spectacular, as we had brilliant harsh mid-day sun, some dark foliage to make the girls pop, and some trees around the top edge of the picture make a really nice frame to draw the viewers eye into the picture.
If you're planning a wedding and are still looking for a venue, they are certainly with a look.
Location: Brynmenyn, Bridgend CF32 8UU.